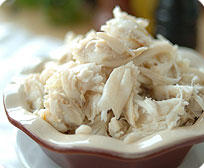 GUARANTEED TO ARRIVE
ON THE DAY YOU CHOOSE
This fresh crabmeat is handpicked from blue crabs harvested from the Chesapeake Bay off the coast of Crisfield, Maryland and
is packed by hand into 1 lb. plastic containers. Both fresh and pasteurized crabmeat are already cooked and ready for use in your favorite crab recipes.
Lump or back-fin meat is white in color and the best choice for recipes where looks are important.
Favorite Lunch Salads
Summer Corn Cakes with Crab-Tomato Salad

(Serves 4)

Ingredients:
4 ears of fresh corn
2 eggs
1/4 cup sour cream
Salt and pepper
2 scallions, chopped
1/2 cup cornmeal
1/4 cup all-purpose flour
5 tablespoons olive oil, divided
2 medium tomatoes, seeded and cut into 1/2-inch cubes
8 ounces crabmeat
1 teaspoon white wine vinegar
5-6 large fresh basil leaves, torn into pieces


Directions:


To make the corn cakes:
Remove the corn kernels from the cobs; you should have about 4 cups of corn kernels. Discard the cobs. Put half of the kernels (about 2 cups) into a blender with the eggs and sour cream. Puree until smooth. Transfer the puree to a large bowl and season with salt and pepper. Add the remaining corn kernels, half of the chopped scallions, the cornmeal and flour; stir until fairly smooth.

In a large skillet, heat 4 tablespoons of olive oil over medium-high heat.
Working in batches, spoon 1/4 cups of the corn batter into the skillet, patting to flatten into small cakes. Cook, turning once, until golden on both sides, about 2 minutes per side.

To make the salad:
In a large bowl, combine the tomatoes, crab, and remaining scallions.
Add the remaining tablespoon of olive oil and white wine vinegar; season with salt and pepper. Stir in the torn basil leaves.

To serve:
Divide the corn cakes among 4 plates and spoon the crab salad on top.
Romaine and Corn Salad with Avocado Dressing

(Serves 4)

Ingredients:
Fresh corn kernels from 2 large ears
1 tablespoon unsalted butter
1/3 cup olive oil
3 tablespoons fresh lemon juice
2 teaspoons honey
1 garlic clove, minced
1 Hass avocado, peeled and pit removed
Salt and pepper
Two (6 to 8-ounce) Romaine hearts, cut into bite-size pieces
1/2 cup thinly sliced red onion
1/2 cup edamame, removed from pods (optional)
1/2 cup shredded Parmesan cheese, divided


Directions:


Heat the butter in a large skillet over medium-high heat. Add the corn kernels; sauté for 4-5minutes just until they start to brown slightly. Remove from heat and set aside to cool.

In a bowl, whisk together the olive oil, lemon juice, honey and garlic.
Add the avocado. Use a fork to lightly crush it against the side of the bowl.
Stir all the ingredients together to form a chunky dressing. Season with salt and pepper.

In a serving bowl, combine the corn kernels, Romaine, onion, and optional edamame. Add 1/4 cup of the Parmesan and gently toss. Add the dressing, season with salt and pepper and toss well. Garnish the salad with the remaining Parmesan and serve.
Tuna, Roasted Asparagus and Cannellini Bean Salad

(Serves 4)

Ingredients:
20 asparagus spears, ends removed
Olive oil
Salt and pepper
1 head Bibb lettuce, leaves removed and torn into bite-size pieces
2 (5-ounce) cans Italian tuna packed in olive oil, drained
1 cup cherry tomatoes, cut in half
1 (15-ounce) can cannellini beans, drained and rinsed
Shaved Parmesan, for garnish

Dressing:
1 tablespoon capers, rinsed, drained and chopped
1 tablespoon chopped fresh parsley
2 tablespoon white wine vinegar
2 tablespoons lemon juice
2 tablespoons olive oil
1 garlic clove, grated or finely minced
Salt and pepper


Directions:


Preheat the oven to 400 degrees F.
Place the asparagus spears on a baking sheet. Drizzle with olive oil and toss gently to coat the spears with the oil. Season with salt and pepper. Roast the asparagus for 10-12 minutes or until tender, depending on the thickness of the spears. Remove from the oven and set aside.

In a small bowl, whisk together all the dressing ingredients until emulsified.

Divide the Bibb lettuce leaves evenly among 4 salad plates. Top each serving with 5 asparagus spears. Break the tuna into chucks. Divide the tuna, tomatoes and beans evenly among the servings. Drizzle with salad with 1/4 of the salad dressing. Top each portion with some shaved Parmesan and serve.
Caesar Salad

(Serves 4)

A traditional Caesar salad dressing contains an egg or egg yolks which give a richness to the emulsion. But many people are uncomfortable with eating foods that contain raw eggs. We made the dressing with the egg for many years but recently switched to mayonnaise and are very happy with the results. Caesar salad tastes best when icy cold, so keep the Romaine refrigerated until ready to dress and serve. To make a more complete lunch entree, add some grilled or roasted chicken, shrimp, or fish.

Ingredients:

1 head Romaine lettuce, cut or torn into bite-size pieces
2 tablespoons grated Parmesan cheese

Croutons:
1/4 cup olive oil
1 large garlic clove, peeled and sliced in half
2 cups Italian bread, cut into 3/4-inch cubes
1 tablespoon grated Parmesan cheese

Dressing:
2 garlic cloves
1 tablespoon lemon juice
1 teaspoon Worcestershire sauce
2 anchovy fillets
1 heaping tablespoon mayonnaise
Salt and pepper
3-4 tablespoons olive oil


Directions:


Put the torn Romaine lettuce in a salad bowl and refrigerate while you make the croutons and dressing.

For the croutons: Heat the olive oil over medium-high heat in a large skillet. Once it is hot but not smoking, add the garlic slices. Use a wooden spoon or tongs to move the garlic around in the pan for just a minute then remove the garlic from the pan and add the bread cubes. Stir and toss until the bread has been evenly toasted and golden brown, about 4-5 minutes. Place the croutons on a paper-towel lined plate towel and immediately sprinkle the croutons with the Parmesan cheese. Set aside.

To make the dressing: In a food processor, with the machine running, drop the garlic cloves through the feed tube and process until well chopped. Add the lemon juice, Worcestershire, anchovy fillets, and mayonnaise; season with salt and pepper. With the machine running, slowly add the olive oil until the dressing is emulsified.

To make the salad: Drizzle the Romaine leaves with some of the dressing and gently toss with a pair of tongs. If the salad looks too dry, add the remaining dressing; then add the grated Parmesan cheese and toss again. Top with the croutons, and any additional protein (chicken, shrimp, or fish) you desire, and serve.
SALAD RECIPES > FAVORITE LUNCH SALADS
There are many health benefits to eating a salad every day. But eating simple green salads can get tiresome very quickly. Well, think again! These delcious lunch salads will have you looking forward to the midday meal as one of your favorites.
Prepworks by Progressive Lettuce Keeper
Keep fruit, lettuce, and vegetables fresher longer, for up to approximately 2 weeks.
The special design doubles as a colander,
so you can wash and store produce in one container. The oblong shape works for all lettuce types and there is an extra divider for simultaneous storage of different types of produce.
ZYLISS Lettuce Knife
Why have a special knife just for lettuce? Because the clean cut a lettuce knife makes allows the leaves to stay green longer rather than quick-browning like torn leaves. It's also excellent with cakes, breads and brownies without leaving a trail of crumbs.
It's amazing how fresh your lettuce will stay when you take care of it the right way.
OXO Good Grips Green Salad Spinner
A salad spinner is used to wash and remove excess water from salad greens.
This is necessary in order to keep the greens from going limp and enables salad dressing and oil to adhere better to the leaves. You can also use the spinner for washing and drying herbs and berries.
Bocconcini, meaning little mouthfuls in Italian, are the smallest form of creamy, fresh mozzarella. The cheese is commonly packaged in water or whey but can sometimes be found marinated in olive oil and herbs. Serve bocconcini in salads, as an addition to an antipasto platter, on toothpicks with grape tomatoes and a basil leaf, wrapped with prosciutto or with cubes of salami or mortadella for an easy hors d' oeuvre.
The heads of Romaine lettuce consist of long pale-green leaves that are crisp in texture. When preparing romaine, it is best to discard the dark outer leaves as well as the darker tops of the inner leaves.
The crispest, most flavorful parts of the romaine are the lighter leaves near the center. You will sometimes see these labeled as romaine hearts. Romaine pairs well with other crunchy salad ingredients such as cucumbers and onions, as well as fruit and nuts. It is the traditional lettuce used in Caesar salad. Romaine is best served with creamy dressings or dressings that have some richness.

Italy-Opoly
The classic property trading game you all have come to know and love, only this time with an Italian theme. Recommended for 2-6 players ages 8 years old and up, Great family board game!
We may earn a commission when you use one of our links to make a purchase.